Coconut Curried Tofu with Green Jasmine Rice
Prose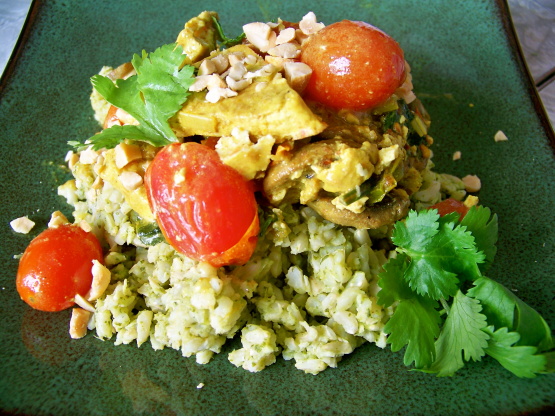 This is a vegetarian dish from Bon Appetit January 2003

Top Review by Prose
The star of this recipe is the amazingly flavorful rice! I will probably be making that rice to go with other dishes. The curry, as written, by itself, probably would have been 4 (or maybe even 3) stars. However, it's a really good "base" to which I added other things for more interest. I knew that, like Roosie, I would want more vegetables, so I added some mushrooms and spinach. I also added a fresh sliced jalapeno and used a whole teaspoon of crushed red pepper. It still wasn't spicy, but we added Sri Racha sauce upon serving. Also, I added extra coconut milk (went ahead and used up the rest of the can) and added soy sauce at the table. Oh, I also added a little salt to the rice flavoring mixture after tasting, and I used basmati brown rice. Thank you for posting this fresh, fun recipe! Made for Veg*an Swap, January 2011.
Stir shredded coconut in small nonstick skillet over medium heat until light golden, about 5 minutes.
Transfer to bowl.
Bring 1 3/4 cups water and salt to boil in heavy medium saucepan.
Stir in rice; bring to boil.
Reduce heat to low, cover, and simmer until water is absorbed and rice is tender, about 18 minutes.
Meanwhile, puree cilantro, 1/2 cup coconut milk, 1 teaspoon ginger, lime juice, and half of garlic in blender.
Mix puree and coconut into rice.
Set aside.
Heat oil in large nonstick skillet over high heat.
Add tofu; stir-fry until golden, about 6 minutes.
Add onions, curry, cumin, red pepper, remaining ginger, and remaining garlic.
Stir-fry 1 minute.
Stir in tomatoes and remaining coconut milk.
Season with salt and pepper.
Divide rice among 4 plates.
Top with tofu mixture.
Sprinkle with peanuts.
*Availableat specialty foods stores and natural foods stores.
**Availableat Asian markets and in the Asian foods section of many supermarkets.