Coconut Curried Tofu with Green Jasmine Rice
Prose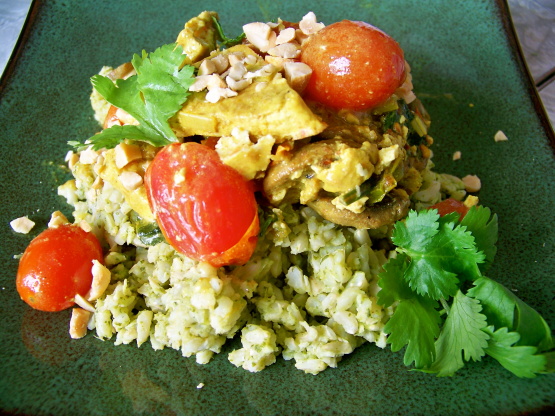 This is a vegetarian dish from Bon Appetit January 2003

Top Review by Nikoma
Fabulous!! I am so full! I could eat this all day long. The rice IS unbelievably good, but the whole dish is first rate in my opinion! And beautiful too. I wasn't sure about this when I picked it, but I would definitely make it again just as is (with the small adjustment of adding some salt to the tofu!) Thank you Rita! Even tofu newbie Fiance thought it was great.
Stir shredded coconut in small nonstick skillet over medium heat until light golden, about 5 minutes.
Transfer to bowl.
Bring 1 3/4 cups water and salt to boil in heavy medium saucepan.
Stir in rice; bring to boil.
Reduce heat to low, cover, and simmer until water is absorbed and rice is tender, about 18 minutes.
Meanwhile, puree cilantro, 1/2 cup coconut milk, 1 teaspoon ginger, lime juice, and half of garlic in blender.
Mix puree and coconut into rice.
Set aside.
Heat oil in large nonstick skillet over high heat.
Add tofu; stir-fry until golden, about 6 minutes.
Add onions, curry, cumin, red pepper, remaining ginger, and remaining garlic.
Stir-fry 1 minute.
Stir in tomatoes and remaining coconut milk.
Season with salt and pepper.
Divide rice among 4 plates.
Top with tofu mixture.
Sprinkle with peanuts.
*Availableat specialty foods stores and natural foods stores.
**Availableat Asian markets and in the Asian foods section of many supermarkets.