Prep 15 mins
Cook 10 mins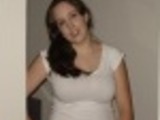 Received from a friend.
Make and share this Coconut Crusted Chicken recipe from Food.com.
Directions
Mix cornstarch, salt, Durkee Cayenne Pepper and Durkee Black Pepper in shallow bowl; set aside.
Beat egg whites in medium size mixing bowl until frothy.
Place coconut in a shallow bowl.
Dredge chicken tenders in cornstarch mixture; shake off excess.
Dip chicken in egg whites, then press chicken into coconut.
Turn over and press into coconut again to coat both sides.
Heat oil in heavy skillet (oil should be about 2 inches deep - add more oil if needed) or deep fat fryer to 350º F.
Add chicken to the hot oil in batches.
Deep fry until cooked through, about 2 to 3 minutes.
Drain. Serve hot with Spicy Apricot Dipping Sauce.
Spicy Apricot Sauce.
1 cup Smucker's® (12 oz.) Apricot Preserves.
2 tablespoons cider vinegar.
1-2 teaspoons hot pepper sauce.
1 teaspoon chili powder.
1 clove garlic, minced.
Reviews
Most Helpful
Chicken tenders came out great, and my friends liked them too. I used only enough oil to simmer the chicken half-way and then flipped them after about two minutes. I also used three whole eggs as opposed to egg whites. If you make many batches, you might have to change your oil because some coconut shaves remain and become too browned. Great dish! I ate it with corn.
Delicious, but I truly need to cut back on my fried food consumption and rediscover my body. Not that it's hard to lose it, but she's been gone for so long that I may have to instigate a missing person's investigation. It would go like this: Officer: When did you last see her? Me: Approximately 20 years ago. Made for All You Can Cook--Special Event Tag.

Unusual recipe, but very good. I did use whole eggs here, and the sauce was fantastic. Othe than the whole eggs, made recipe as posted. Worth repeating this one as our company, and us really enjoyed these unique recipe. Made for I recommend.