Rita1652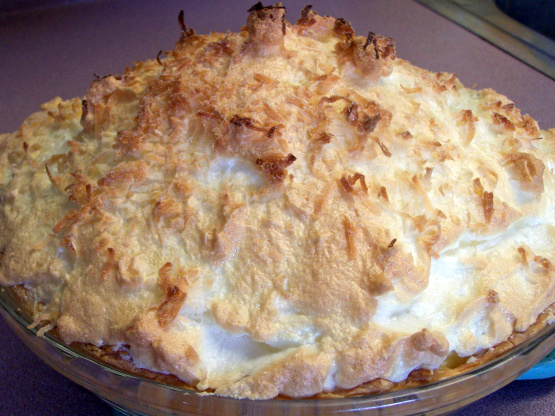 This is my son's favorite pie and I make it whenever he comes to visit. The recipe is from Food Network.. Hope you enjoy it as much as my son does.

Dreamy Good! Read the problems with meringues and thought I would share this tip from my catering business: Bring the sugar for the meringue (I use 2 T for each egg white) and 1-2 T water to a boil in a pyrex dish in the microwave. When the egg whites begin to stiffen up, drizzle the syrup into the whites slowly, while beating. The volume increases dramatically and makes a beautiful pie. Thanks for the good recipe.
In a non stick one quart saucepan, combine 3/4 cup sugar and 3/4 cup milk together.
Bring the milk to boiling point and scald the milk.
In a small mixing bowl, whisk the remaining milk, egg yolks, and cornstarch together Whisk until smooth.
Temper the egg yolk mixture into the scalded milk.
Bring mixture up to a boil and cook for about 3 minutes or until the mixture is thick, stirring constantly.
Remove the pan from the heat and stir in the flaked coconut, vanilla and butter Pour the filling into the prepared pie shell.
Cover pie with plastic warp and place in the refrigerator.
Chill pie completely, about 2 hours.
Using an electric mixer, whip the egg whites until stiff with the remaining sugar.
Spread meringue evenly over the top of the pie.
Sprinkle top with the toasted coconut.
Place pie in a pre-heated 350 degree oven and bake for 8 to 10 minutes or until golden.
Remove from oven and cool.