Bev I Am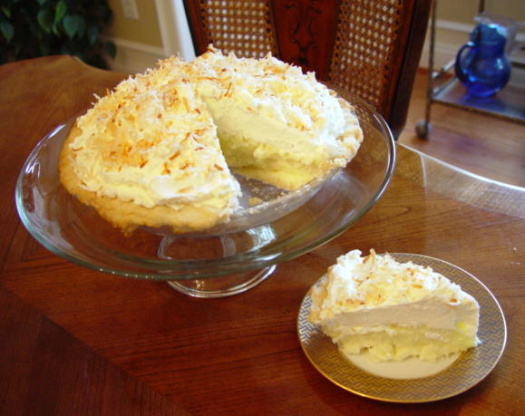 The secret is in the mixing. I also like using Pillsbury prepared pie crust. You can find it in the dairy case at your grocers.

The filling for the pie had a great texture, but lacked in "real" coconut flavor. Like Sharlene, I think next time I will leave out the coconut extract. The topping for the pie was very bitter from the extract so we had to scrape it off it was to strong to eat. Next time I will add a little more sugar to the filling to make it a bit sweeter.
2⁄3 cup sugar
1⁄4 teaspoon salt

3

cups whole milk, do not use low fat
1⁄3 cup cornstarch

3

eggs, beaten

1

tablespoon butter

2

teaspoons coconut extract

1

cup coconut flakes

1

(9 inch) pie shells, baked and cooled

TOPPING

1⁄3 cup sugar
1⁄2 pint whipping cream

2

teaspoons coconut extract
1⁄4 cup coconut flakes, baked
In a medium sauce pan, stir together the sugar, cornstarch, salt and milk.
Beat the eggs then blend with mixture in the sauce pan.
Cook over medium heat, mixing constantly with a hand electric mixer, until mixture boils; boil mixing for one minute.
Remove from heat; stir in butter and coconut extract, mix in coconut with electric mixer.
Return to heat, cooking until boiling, mixing with electric mixer.
Remove from heat and pour into pie crust, spread evenly.
Press plastic wrap directly onto surface; refrigerate 6 to 8 hours.
Put 1/4 cup coconut into a pie pan and bake under broiler until just browned, stirring frequently.
Mix whipping cream in a chilled bowl with sugar and coconut extract until real stiff.
Remove plastic wrap from pie and spread whipping cream mixture over pie, sprinkle with baked coconut.