Coconut Cream Meringue Pie
icynorth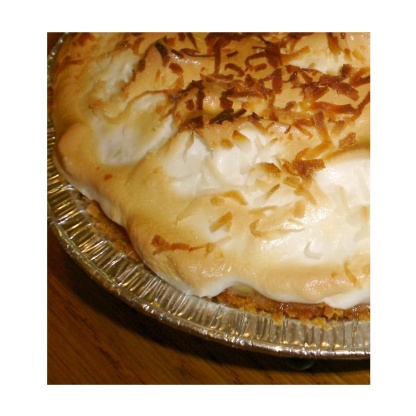 This makes a creamy pie, topped with golden meringue and toasted coconut. The pie requires 1 hour cooling time plus 1-2 hours for chilling time.
In saucepan, combine the sugar, cornstarch and salt.
Gradually stir in milk until smooth.
Bring to a boil; cook and stir for 2 minutes or until thickened.
Gradually stir in 1 cup hot filling into egg yolks; return all to the pan, stirring constantly.
Bring to a gentle boil; cook and stir for 2 minutes.
Remove from heat; stir in chopped coconut, butter and vanilla until butter is melted.
For meringue, in a mixing bowl, beat the egg whites on medium speed until foamy.
Add cream of tartar, beat until soft peaks form.
Gradually beat in sugar, 1 T at a time, on high until stiff peaks form.
Pour hot filling into crust.
Spread with meringue, sealing edges to crust.
Sprinkle with flaked coconut.
Bake at 350 degrees for 13-15 minutes or until golden brown.
Cool on a wire rack for 1 hour; chill for 1-2 hours before serving.
Refrigerate leftovers.