Coconut Cream Frozen Dessert
This recipe is a perfect dessert for hot summer days.
Directions
In a bowl, combine the cracker crumbs and margarine; mix well. Press into an ungreased 13X9 inch dish.
In a mixing bowl, combine the ice cream, milk and pudding mixes. A mixer works well for this. Spread over crust.
Top with whipped topping and coconut.
Cover and freeze for up to 2 months.
Remove from freezer 15 minutes before serving.
Reviews
Most Helpful
I had this at my sister-in-laws for dessert tonight and it was sooooo yummy! After my first serving, I went back for seconds. Such an easy and delicious make-ahead dessert. Thanks Chris for sharing. Pam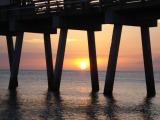 Made this out of curiosity because it sounded delicious. Did not let me down!! Sent some over to a neighbor telling her there is more where that came from. 30 minutes later she was over for seconds. PS I have made it with vanilla pudding and it tasted terrific as well.

This was really good! I liked that the crust wasn't too sweet. If you like coconut cream pie, you'll really like this! Thanks for posting.