Paula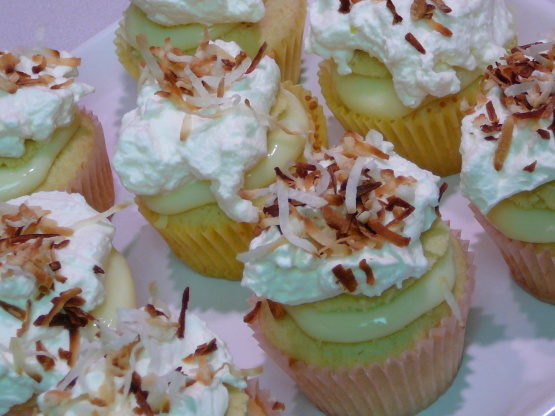 From Ladies Home Journal June 07. Recipes for a bridal shower.

Top Review by Paula
Oh my! This is absolutely heavenly! The cake is so tender and moist...the custard is very light coconut flavored - not strong or overpowering at all - and the homemade whipped cream is the perfect light finishing touch (not too sweet)for these gems! I do have to note that I had alot of extra custard filling remaining after filling the cupcakes. After following the given directions, I was contemplating the next time using a pastry bag and trying to pipe the custard into the cake...kind of like a jelly donut; however, I'm not sure that would work very well, either. In the end, I think that I maybe got approximately 1 Tbs. of the custard into the "cone". We enjoyed the remainder of the custard on its own. Very tasty! For anyone who is thinking of trying this recipe...please DO! It is really worth the little bit of extra work put into these tasty treats!
Cup Cake Cooking Directions:.
Preheat oven to 350 F and arrange rack in center. Line 1 (12 cup) muffin pan with baking cups; set aside. Whisk together flour, baking powder and salt in a bowl; set aside. Beat together butter and granulated sugar in a large bowl on high speed until light and fluffy, about 2 minutes. Add eggs and extract; beat until combined well, about 2 minutes. Alternately add flour mixture and coconut milk, beginning and ending with flour mixture, beating until just combined.
Divide batter among baking cups and bake until cupcakes spring back when lightly touched, 18 to 20 minutes. Cool 10 minutes, remove cupcakes and cool completely on rack.
Holding a small knife at ab angle, cut a 1 1/2 inch round in the top of each cupcake, forming a shallow cone shaped opening. Remove tops and fill each cupcake with 2 tablespoons custard; re-cover. Dollop whipped cream on top of each cupcake and garnish with toasted coconut flakes.
Coconut Custard Directions:.
Whisk together cornstarch, sugar and salt in a medium saucepan. Add milk, coconut milk and yolks; whisk until combined well. Bring to a boil over moderately high heat, stirring constantly; immediately remove from heat. Add butter and stir until melted and combined well. Transfer to a bowl set over ice and cold water; let cool completely, stirring occasionally.