Kim S.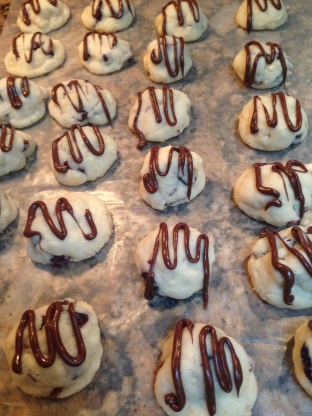 Addictive; was rated grand prize winner in cookie recipe contest--originally submitted by Nancy Jamison

For some reason I have gone crazy this Christmas and decided to make an enormous amount of different kinds of cookies. I chose these because they looked like they would be different from any I had made so far. They are TRULY addictive...I am almost burned out on cookies but these made me crave more! I recommend them hightly. Easy and delish. You won't be dissapointed.Thanks Nancy...these have already become a tradition.
With a mixer on medium speed, beat butter, sugar, orange peel and vanilla until smooth.
In another bowl mix flour, baking powder and salt.
Add butter mixture and beat on low speed for about 5 minutes.
Stir in cranberries and coconut.
Shape dough into 1-inch balls and place 2 inches apart on buttered baking sheets.
Bake in a 350° oven for 8 minutes.
Remove from oven and let cookies cool on sheets for 5 minutes.