Coconut Coffee Liqueur Cake
Sara 76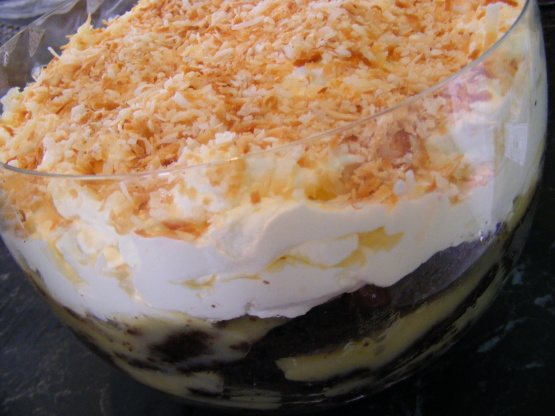 This tasty cake is so easy to make. I love the simplicity of this recipe. The results will certainly please you. A lovely tall, moist cake, with a nice crumb is waiting to be enjoyed.... by ....You!

I completely messed this up, but it was still delicious! My mistake was in buying a mud cake mix...mud cakes don't rise much, so I ended up with super thin layers, which ALL fell apart when I put the third layer on top. I had promised to take dessert to a BBQ that night, so, not wanting to waste these ingredients (and having no time to re-do it) I turned this into a layered dessert, instead of a cake, by placing it all in a glass bowl, and topping it with whipped cream and coconut. I didn't put sugar in the cream (personal preference). I look forward to trying this again, with a better choice of cake mix! [Made for Aus/NZ Recipe Swap #24]
Make cake mix according to instructions on package.
Add the instant coffee and mix well.
Pour the batter into 2 greased and floured 9 inch cake pans.
Bake according to instructions on package.
Place on wire rack to cool completely.
With a large serrated knife, split each cake horizontally to make 4 layers.
Sprinkle 1/4 cup of the Tia Maria on the cake layers and set aside. Try to add the same amount of liqueur on each cake.
Make the vanilla pudding using the package directions, -- please note -- that you have to use the remaining 1/4 cup of Tia Maria as part of your liquid ingredients in the pudding .
Spread 1/3 of the pudding between each layer of cake as you assemble it.
Whip cream with sugar until stiff peaks form and spread the top and sides of cake the cake and sprinkle with the toasted coconut.