Coconut Chocolate Squares
Xanthia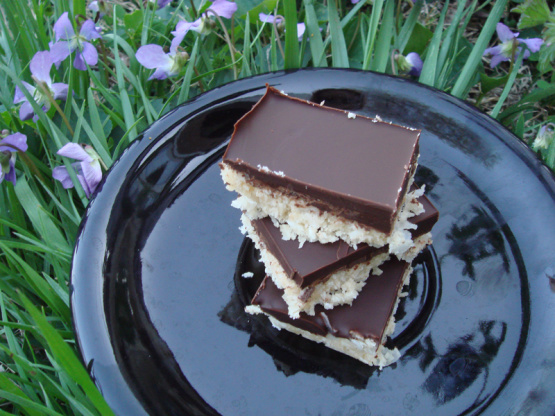 My daughter made these for me on Mother's Day. They are SO GOOD! If you like Mounds Bars, these are even better! I've changed this recipe to use only sweetened flaked coconut.

I didn't sandwich them, and made my own sweetened condensed soymilk (so they are vegan) and these turned out excellent. I think they would have not been so crumbly if I had used 100% flaked coconut, but I had unsweetened as well so I went by the recipe. I'll be making this again, maybe with 100% flaked coconut instead for moisture or more liquid.
Line bottom and 2 opposite sides of an 8-inch square metal baking pan with a sheet of waxed paper, leaving a 2-inch overhang on both sides.
Mix together flaked and condensed milk with your fingertips until well combined, then firmly press into pan in an even layer with an offset spatula. Chill, uncovered 5 minutes.
Melt chocolate gently in microwave on low until completely melted and smooth. Spread evenly over coconut layer and chill until firm, 7-10 minutes.
Lift confection onto cutting board using overhang and halve it with a sharp knife. Sandwich the halves together, coconut sides in, to form and 8X4-inch rectangle, then discard waxed paper. Cut into 16-20 pieces.
Chill until serving time.