Coconut Chip Cookies (for 2)
PaulaG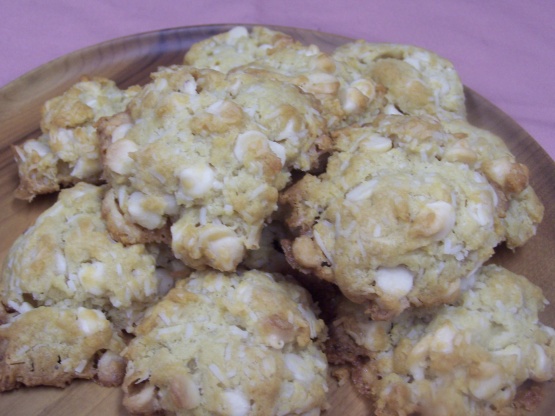 Another recipe from my great search of recipes for 2. This recipe makes 12 large or 18 medium cookies. Just the right portion size for us "empty nesters"

I used chocolate chips, an extra half cup of coconut because mine seemed a tad wet and my coconut was a little old/dry. I also mixed in a quarter tsp. of almond extract. I flattened them, after reading the reviews. Flattening really is important unless you like a thicker cookie. Mine must have been really large cookies because it only made 8. ~~~~~~~~~~~~~~~~~~~~~~~~~~~~ With the almond extract they tasted like almond joy candy bars in a cookie form.
Preheat oven to 375°F.
cream butter and sugar.
Beat in egg and vanilla.
Combine the flour, baking soda and salt and add to creamed mixture.
Stir in chips and coconut.
Drop by rounded tablespoons onto ungreased baking sheets.
Bake 11-13 minutes for medium cookies or 15-17 minutes for large cookies.
Remove to wire rack to cool.
NOTE: These cookies spread.
If making the large cookies, only 6 will fit on the baking sheet without running together.
For the medium size, you can place 8 or 9 on a sheet.
Cook time is per cookie sheet.