Coconut Chicken With Tropical Fruit Sauce
Prep 15 mins
Cook 45 mins

Makes a delicious company dinner or something special for the family. Submitted for the 2006 January RSC
Directions
Preheat oven to 350f degrees.
Dry chicken breasts; pound chicken between two pieces of plastic wrap to an even thickness.
Whisk together egg and milk in a bowl.
Place fine coconut on a plate.
Dip chicken breasts in the egg mixture, then coat with the fine coconut.
Line a cookie sheet with foil and spray generously with vegetable spray, lay coated chicken pieces on it in one layer. Spray coated chicken pieces with vegetable spray. Bake in a 350f degree oven for 20 to 30 minutes, depending on thickness,until no longer pink. After 15 minutes, turn chicken pieces. If the coconut coat has not turned brown, place under broiler for 2 minutes. Remove to a platter and keep warm.
Tropical fruit sauce:.
Spray a non stick fry pan with vegetable spray, add oil and bring to medium heat; add mango, papaya and ginger, sprinkle with salt and pepper, saute for 6 to 8 minutes until softened; reduce heat.
Meanwhile, add cornstarch, if using, and milk to sour cream, whisk until smooth; add to fruit in fry pan and stir to mix well, slowly bring to a simmer, and simmer for 2 or 3 minutes until slightly thickened. Spoon hot sauce over chicken on the platter, sprinkle toastaed shredded coconut over.
Enjoy!
Most Helpful
Delicious but we are not mango lovers so I would substitute pineapple the next time around. I served this with baby carrots, yams with a brown sugar and rum sauce and cole slaw.
I enjoyed this sweet tasting main course.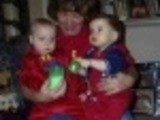 I made this recipe twice. The first time as written, which was great, then I adjusted it for my family's tastes the second time. I used a non-stick pan and didn't turn the chicken while it cooked. coconut on top toasted just right in the 30 minutes I baked it. To the Fruit Sauce I added 1 jalapeno, seeded and chopped, 1/2 teaspoon ground red pepper, 3 colves garlic, chopped, & about 1/2 teaspoon garlic salt, (we thought the whole recipe needed more salt both times). I found a scant 1/4 teaspoon of cornstarch in the sour cream mixture was enough thickening. Then we all sat back in our chairs and thanked the unknown (as yet) chef who submitted this recipe. My family says, "It's a Keeper!" YUM!