Coconut Chicken With a Tropical Mango Rum Sauce
alligirl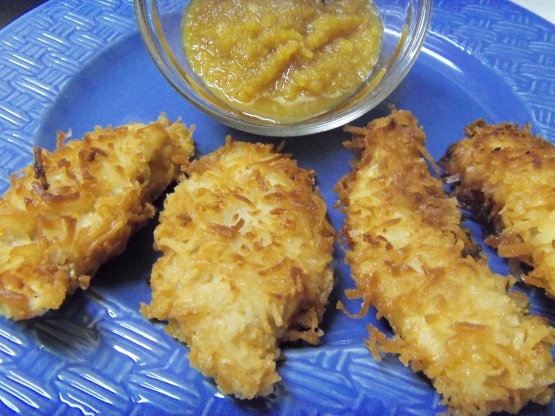 I made this for Ready Set Cook 2006. This Easy, Sweet, Caribbean recipe consist of chicken strips coated with coconut and fried with a warm rum mango sauce with a little kick. Scotch Bonnet Pepper are very HOT! Be careful not to get in your eyes. Best to wear gloves when handling. Serve over rice for a main meal or as appetizers.

Yum! We really enjoyed these coconut tenders. I think that using the blender made my dipping sauce alot more like applesauce, but no matter, as the taste was great. Next time, though, I'll use my food processor, to leave it a little more 'chunky'. The flavor was really good, from the tenders and the sauce, as the rum undertones were very nice. Thanks for being a creative force, Rita~, and sharing these tidbits with everyone!
Mix the first 4 ingredients together in a large container with a top. Add chicken pieces, toss till coated and set aside.
Place all Mango Rum Sauce ingredients in a blender or food processor and blend till smooth. Add to a pot and simmer over low heat for 10 minutes. Keep warm.
Whisk egg whites till frothy. Toss in chicken pieces till coated.
Place coconut in a bowl and dip each piece of chicken to coat with coconut.
Set aside.
Place enough oil to cover bottom of a large pan by 1/2 inch and heat to medium high.
Cook 1/2 the chicken at a time about 4-5 minutes each side. Do not over crowd the pan.
Drain cooked chicken on paper towels.
Place chicken on a serving platter serve with Mango Rum Sauce.