Coconut Chicken Fingers With 30 Minute Mango Chutney
gailanng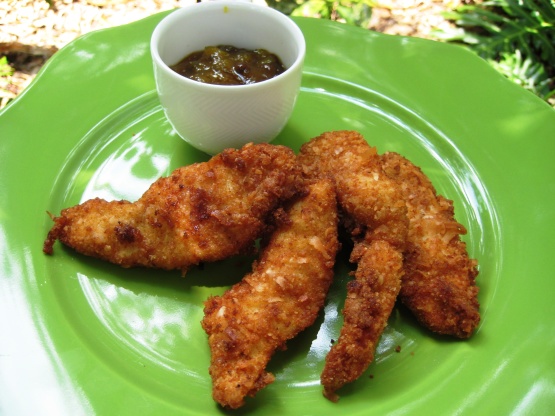 My idea for this dish was to prepare a chutney that didn't take hours. This one is quick, easy, and the flavor adds to the coconut chicken with a tangy sweetness. You will end up with approx 1 cup of chutney. The batter was adapted from one I use for coconut shrimp. I prefer using a wet batter method for coconut breaded items. This recipe was created for RSC #8.

We loved the flavor combinations. I have never made chutney from scratch before, and DH loved it. The store didn't have great mangoes or jalapenos. So, I used some Del Monte peaches and mangoes and pickled jalapeno slices. I reduced the amount of vinegar to compensate for pickled jalapenos. I was worried it wouldn't taste right, but shockingly it worked really well. The coconut was a great change. I used Panko bread crumbs too. I put it in the oven at 450' on convection to cut the fat. And it came out crispy and moist. Thanks for posting this one!
Start the chutney. Place ginger into mini chopper and pulse until finely minced. Add mango pieces, jalapeno, and half of the vinegar. Pulse until finely chopped, but not pureed.
Pour into heavy bottomed saucepan and add the remaining chutney ingredients. Bring to boil, then reduce to medium heat. Stir often to prevent sticking. Cook until thickened, approx 23 minutes.
While the chutney is cooking cut chicken breasts into fingers, 4-5 per breast depending on size.
Make batter. Mix flour, salt, ground ginger, black pepper, water, & lemon juice in large bowl. (The batter will be thin, thinner than pancake batter.) Add chicken fingers & let rest.
Mix breading. (I lightly pulse the coconut to a smaller size.) Mix the coconut & breadcrumbs. Set aside.
Fill pan with oil to ½" depth or heat deep fryer. Heat oil.
Take wet, batter coated chicken fingers and roll in the coconut mixture, pressing lightly to ensure the coating sticks. Drop into hot oil, not crowding the fingers in the pan. Fry until golden & turn with tongs. Complete frying until all sides are golden. Drain on paper towels.
Serve with a ramekin of the mango chutney for dipping.