Maggie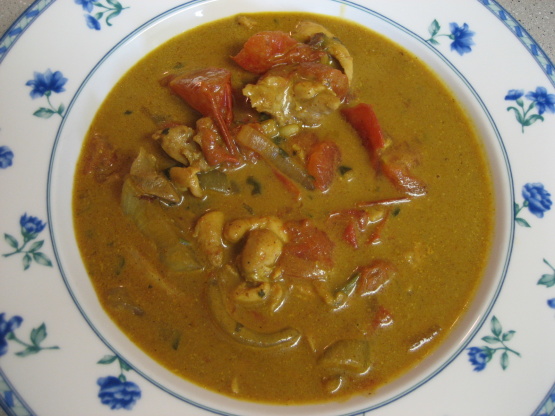 Yes, another curry with this title! Different to others posted, this one is from Best Food - Mains (Australian Women's Weekly)

Top Review by Maggie
This was delicious and easy to follow, but I will definitely double the spices next time for more flavor. Also, to shave off a few calories, I used light coconut milk and used only a half teaspoon of peanut oil for the chicken and had enough oil left and from the chicken that I did not need to add more to cook the onion/garlic/garlic. **Update** For more flavor and spice, to the leftovers I added a little Red Curry Paste, mixed it in well, and it made this absolutely perfect, so in the future, I'll add about 2 Tablespoons (or more) of that at step three.
Heat half the oil in a wok and stir fry chicken, in batches, til lightly browned; remove chicken from wok.
Heat remaining oil and stir fry onion, garlic and ginger until onion softens. Add spices and stir fry briefly til fragrant.
Add tomato; stir fry til just softened; return chicken to wok with remaining ingredients and stir til heated through.
Serve with homemade naan or chappatis.