Coconut Chicken and Pineapple Skewers
2Bleu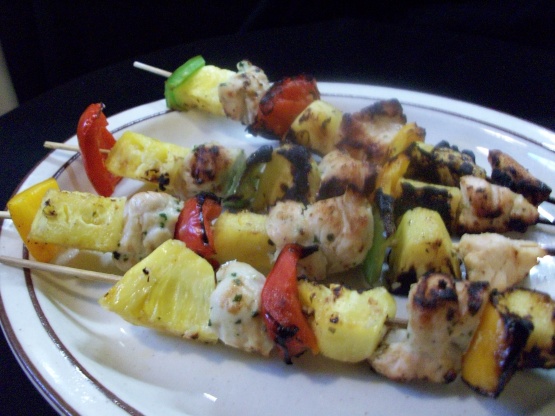 From Epicurious. This can be made with shrimp instead of chicken, and mango may be substituted for the pineapple. Time does not include soaking skewers or marinating.

These were yummy but needed something else. Maybe red onion pieces in between the chicken and pineapple, but still tasty!
Soak bamboo skewers in water for at least 30 minutes.
Cut chicken into 3/4-inch cubes and place in a bowl.
Place garlic, shallot, ginger, cilantro, salt, cumin, peanut oil, lime juice and coconut milk in processor or blender. Puree until smooth liquid forms.
Pour marinade over chicken and refrigerate for at least 30 minutes or up to 3 hours, turning occasionally.
Preheat grill to medium. Add marinated chicken cube then pineapple cube then another marinated chicken cube to each bamboo skewer. Grill until chicken is slightly golden all over, turning as needed (about 5 minutes each side).