Coconut Cherry Chocolate Kiss Cookies
Diana K.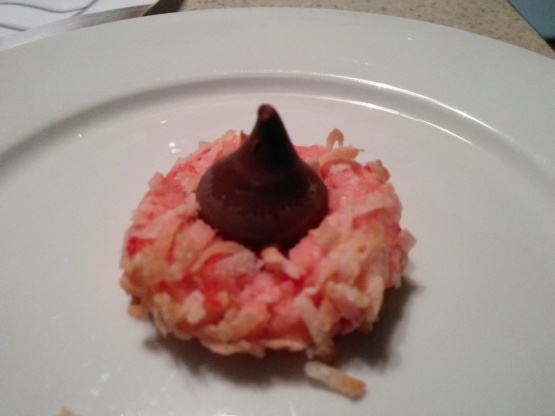 Peeling silver foil from the chocolate kisses is like picking berries. One to keep, one to eat, one to keep,one to eat...
My Mom started Me on these a long time ago. I can be Dr make enough of them everyone loves them. However; I do not roll mine in the additional coconut. I did for the picture then went to not rolling them. To us it dries them out too much. To each his own though.
To make dough-In large mixer bowl cream butter with the cream cheese and sugar until light and fluffy.
Add egg yolk and vanilla. Beat well.
Combine flour,baking powder and salt.NOTE-A touch of almond extract intensifies cherry flavor.
Gradually add to creamed mixture.
Stir in cherries and 3 cups coconut. Cover tightly and chill for 1 hour ,or until firm.
To bake-Shape dough into 1 inch balls.
Roll in coconut.
Place on ungreased cookie sheet.
Bake 350°F for 10-12 minutes or until lightly browned.
Remove from oven. Immediately press 1 kiss in center of each cookie.
Cool 1 minute.
Carefully remove from cookie sheet. Cool completely on wire racks.