Coconut Cake With Pineapple Filling
Alan A.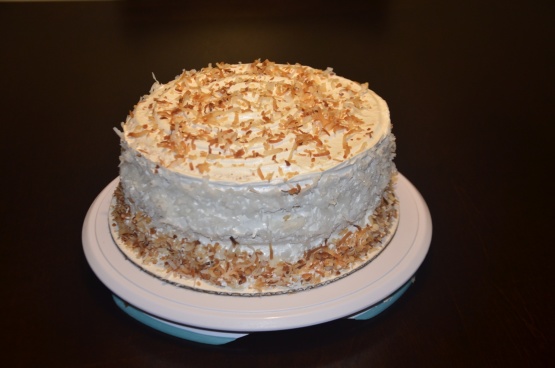 This was our family's traditional Birthday or Easter cake that my mother made for us every year. It is a three layer yellow, moist cake with thick pineapple filling and seven-minute icing with sweet shredded coconut spread all over the cake. It can be a special cake for any occasion.
Nailed It!! This recipe is fabulous! I'm so excited that I made old-fashioned 7 minute frosting PERFECTLY the first try (this has been my nemesis) The pineapple filling is perfection...great consistency, stayed on the layers and supported them without running (I made it a day ahead and refrigerated it so it would cool.) ONE CHANGE: I've never cooked cake layers at 375 so I cooked them at 350 degrees for the recommended time and they were perfect. Thank you for this recipe! It's going in the "keeper" file!
For the cake:.
Preheat oven 375 degrees F. Butter and flour three 9-inch cake pans and set aside.
In a medium bowl, sift flour, baking powder and salt. In a large bowl, cream butter and sugar, add beaten eggs, milk, and vanilla and use a hand mixer to blend together. Add flour mixture in three batches, using mixer to incorporate all ingredients.
Pour evenly into the prepared cake pans and bake for 25 minutes. Use a toothpick to make sure cake is done. Remove from oven and cool on rack 5 minutes and invert cake onto rack to finish cooling.
For the pineapple filling:.
Combine ingredients, cook over medium heat, stirring constantly until thick and clear. Cool before using.
For the icing:.
Place sugar, cream of tartar, salt, water and egg whites in the top of a double boiler. Beat with a hand mixer for 1 minute. Place pan over boiling water, being sure that the boiling water does not touch the bottom of the top pan. (If this happens, it could cause your frosting to become grainy). Beat constantly on high speed with mixer for 7 minutes. Beat in vanilla.
Assemble the cakes:.
Take a pedestal cake dish and put first layer of cake, spread half of the pineapple filling, take second layer cake and put on top first layer and spread with other half of filling, take third cake and place on top second layer and start icing around the sides of the cake. Put the rest of the icing on top of cake and make big swirls for a nice finish. Take sweetened shredded coconut and immediately put around the sides and on top of cake before the icing dries. Enjoy!