jkoch960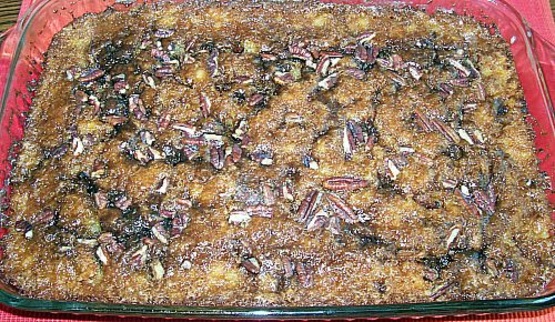 This is a little different than other coconut cakes. It is very moist and quick to make. Always a big hit, if you like coconut!

I, personally would give this 10 stars! OMG, it is absolutely delicious!!!! For me, it has everything I love in a dessert! I much prefer a moist thick cake such as this to your standard cake with frosting! And, it was a breeze to make! This is definitely a keeper for me!!! Thanks for sharing! Made for ZWT5 Dessert Challenge for team Ali Baba Babes.
Mix together sugar, flour,soda, coconut,salt, slightly beaten eggs & pineapple with juice.
Pour into a greased and floured 9x13 pan.
Top with brown sugar and nuts.
Bake at 350 degrees for 40-45 minutes.
While cake is baking; cook evaporated milk,sugar,butter and vanilla in a saucepan until boiling.
Pour over cake as soon as it is removed from oven.
Prick cake with fork so topping will be absorbed.