Kzim4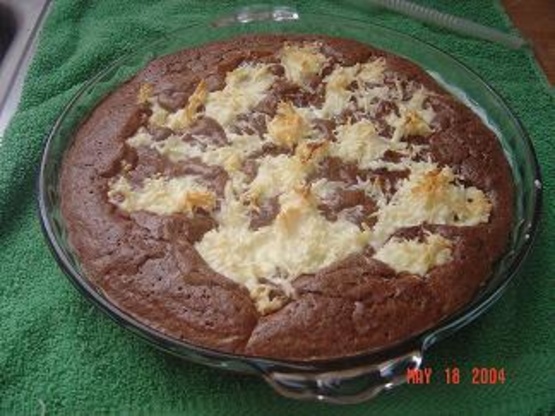 A layer of coconut with a fudgy, brownie like crust.

This thing is evil...If you like chocolate/coconut candy, you will love this. Very simple to make with onhand ingredients. Warm ,chocolatey and oozing coconut sauce. Yummy! Will make again.
Preheat oven to 325°F.
Lightly grease a 9 inch pie pan.
In a small bowl, combine coconut and milk.
Melt butter and chocolate in a small sauce pan over low heat, stirring until smooth.
Combine sugar, flour, eggs and vanilla.
Stir in chocolate.
Pour mixture into pie pan and spread over bottom.
Spoon coconut mixture on top leaving a 1/2 inch border around edges.
Bake 30-35 minutes.