Coconut-Blueberry Muffins
karen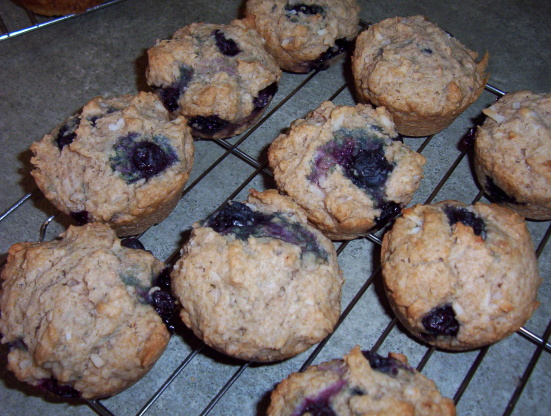 The blueberries can be replaced with cranberries, or even chocolate chips ;-)

Top Review by karen
I made these muffins for a gift basket, and were definitely good enough to feel comfortable giving out, but I felt they were a bit too crumbly & dry for me. As Kit mentioned in the directions, the batter is very thick. I found that by the time I measured my frozen blueberries to mix them in, the batter had thickened so much that I was able to really get them imcorporated into the batter well enough. As a result, the blueberries ended up on the top & edges and burst upon cooking. I would have liked it better if they were inside the muffins. I did follow the directions exactly, using 1/2 cup sugar (plenty sweet IMHO) and shredded sweetened coconut. Baking time for 12 medium sized muffins was 25 minutes. Not bad, but probably not one I would make again.
Set oven to 350 degrees.
In a bowl, combine all dry ingredients, stir well to combine.
In another small bowl, whisk together the melted butter, cream, egg annd vanilla.
Pour the wet ingredients into the dry, mix well, with a wooden spoon to blend, (mix just until blended, don't overmix).
Gently, mix in the blueberries to the batter.
Divide batter evenly into prepared paper-lined muffin cups about 3/4 full (batter will be thick).
Bake for 20-25 minutes, or until muffins test done, and are golden brown.