gailanng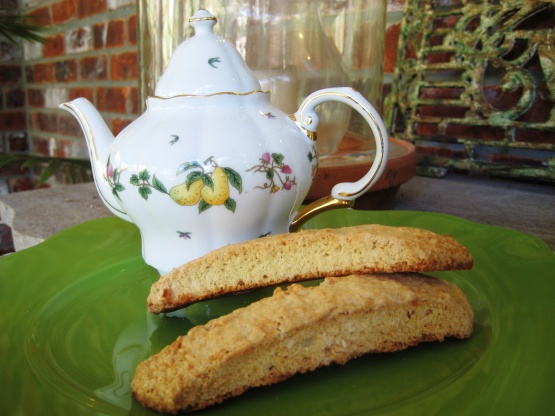 From Cooking Light, April 2005. Variations: stir in 1/2 c. mini chocolate chips into batter or dip half of each baked cookie into melted chocolate.

I have made lots of biscotti in the past, but these did not rise up like the photo. Rather, the very sticky dough spread as it cooked. I had brand new baking soda and powder. Maybe I didn't knead it enough and with enough flour. It is very sticky, so if you don't think you have enough flour for that step, add more, and then some more! I still recommend trying these because they do taste really good! I made a double batch and toasteded my sweetened coconut. I also substituted one quarter of the vanilla with coconut extract. You can see many more reviews and substitution ideas on Cooking Light's website.
Preheat oven to 300°F.
Combine first five ingredients. In a separate large bowl, combine sugar, vanilla, and eggs and beat with electric mixer on medium speed for 2 minutes or until thick. Add flour mixture and coconut; stir to combine (dough will be very sticky).
Turn dough out onto a heavily floured surface; knead lightly 7 or 8 times. Shape dough into a 15 x 3-inch roll. Place roll on a baking sheet lined with parchment paper and pat to 1-inch thickness.
Bake at 300°F for 40 minutes or until roll is golden brown. Cool for 5 minutes on a wire rack.
Cut roll diagonally into 20 (1/2-inch thick) slices; stand slices upright on baking sheet. Bake 20 minutes (cookies will be slightly soft in center but will harden as they cool). Remove from baking sheet; cool completely on wire rack.