Marz7215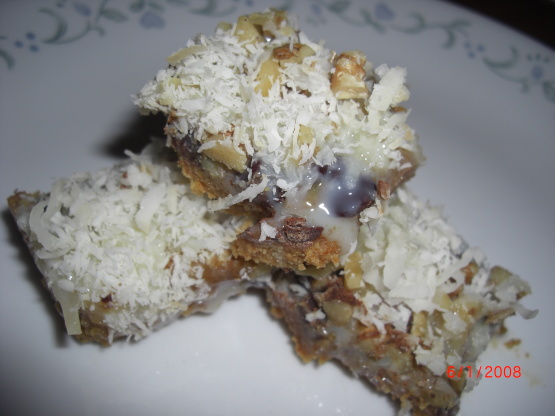 This is a scaled down recipe for when you just want a little something sweet without the temptation of having too much.

I used white chocolate chips and soy milk (mixed with soy protein powder to make it thicker) instead of the condensed milk. First of all, this smells amazing! Pretty tasty, but quite soggy and messy -- I'd probably have to cut the butter and milk by at least half if I make these again.
Preheat oven to temperature 350°F
Place butter in a 9x9 inch baking pan and put in oven to melt butter.
Remove from oven and spread butter evenly over bottom of pan.
Sprinkle with graham cracker crumbs, pressing down to form a crust.
Sprinkle chocolate chips over top.
Pour condensed milk over and sprinkle with a layer of nuts and a layer of coconut.
Bake 15 minutes, or until coconut is golden. When cooled, cut into bars.