Pamela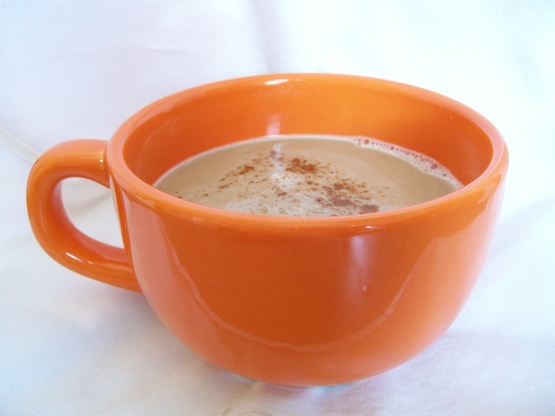 ------White chocolate, coconut milk and aromatic citrus and spice combine with coffee to create a drink that is warming, rich and decadent. In brief - a winner! An added plus - if you're lactose intolerant - this is a the latte recipe for you.------

I'm giving 5 stars for what I made. After reading the other reviews I used half of the white chocolate and brown sugar ask for and it was well enjoyed at that level. I made 3 cups, 1 for myself and 2 for guests (DH had a Coke, sheesh!). The coconut came through very lightly and would have been easy to miss if you didn't know it was there and were tasting for it. Excellent after dinner coffee that we well enjoyed.
In a small saucepan over medium heat, whisk together white chocolate, coconut milk, orange zest, cinnamon and vanilla extract.
Keep whisking until white chocolate has melted completely, and mixture is steaming-hot (not boiling) and frothy.
Distribute double-strength espresso between two mugs and sweeten with brown sugar (remember - the white chocolate provides sweetness, too).
Top each mug with 1 1/2 tablespoonfuls of Grand Marnier or Cointreau and then fill mug up with white chocolate/coconut mixture.
Spoon some of the froth over top.
Dust the top of each mug with more cinnamon.
A cinnamon stick added to the mug as a 'swizzle stick' is a nice touch.