jenne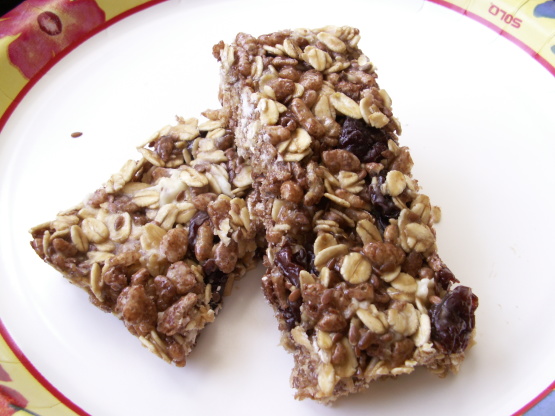 This is my variation on plain granola bars. I threw them together today for a camping trip and the kids loved them.

Top Review by Mami J
We loved them! I omitted the white chocolate chips, and I'm glad I did because then they would have been too sweet. I added some cranberries as well. Thank you for posting, I will make these again!
Combine cereal, oats,raisins and white chocolate chips in a big bowl.
Warm honey, brown sugar, and light corn syrup in a saucepan on the stove top, stirring to combine.
Add peanut butter and vanilla and stir to combine then take off heat.
Pour mixture over cereal mixture and mix well.
Press into a 9 x 13 ungreased pan.
Be sure to press hard into pan all over so they don't fall apart.
Put in refrigerator for an hour to cool which makes them easier to cut.
Cut into 15 bars and enjoy.
You may also wrap in wax paper and freeze.