Cocoa Applesauce-Raisin Muffins
Redsie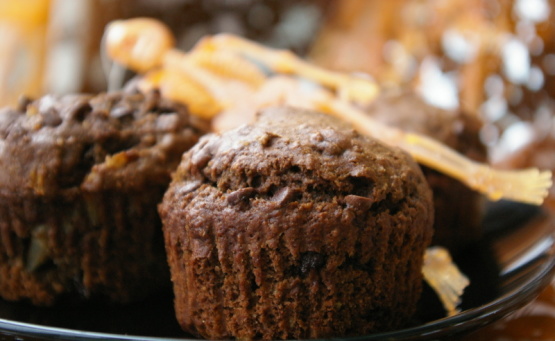 These muffins are a real treat served warm from the oven, slathered with cinnamon butter...delicious!
Set oven to 400 degrees.
Grease the bottoms, or line 2-1/2-inch muffin cups with paper liners.
In a large bowl, stir together, the flours, brown sugar, baking cocoa, baking powder, baking soda, salt, cinnamon and nutmeg.
In a small bowl, stir together, melted butter, applesauce, half and half cream or milk (if using), and the egg until well blended.
Add to dry ingredients; stir with a wooden spoon JUST until dry ingredients are moistened.
Stir in raisins.
Fill muffin cups about 3/4 full with the batter.
Bake for 20-22 minutes, or until the muffins test done.
Remove from pans to wire racks.
Cool slightly.
Serve muffins warm with cinnamon butter.
To make cinnamon butter: In a small mixing bowl, beat butter, powdered sugar and cinnamon until well blended.