Cocktail Therapy (I.e. Berry Smoothie for Adults)
From Better Homes and Gardens Aug 2008 Issue. "Researchers recently made the interesting discovery that adding alcohol to berries boosted the amount of antioxidants in the fruit that could be absorbed by our bodies." So DRINK UP!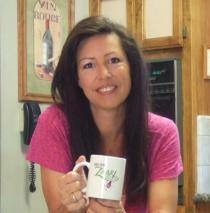 Wowser this was scrumptious! Definitely made me feel better ;) I used Frozen Mixed Berries. Blueberries, Strawberries, raspberries and Blackberries. YUM! Thanks for sharing such a simple berry delicious therapy cocktail. Me liked it Alot! (Made for Bevy Tag 08) Cheers my friend! ~V
Blend berries, ice, juice, vodka, sugar and mint about 2 minutes, or until smooth. Some seeds will remain.
Transfer to large glasses and garnish with mint springs.
Cheers to your health!