Prep 10 mins
Cook 30 mins

2 large eggs
2 center-cut bacon, slices
2 tablespoons shallots, minced
2 garlic cloves, minced
2 tablespoons red wine vinegar
1 1⁄2 tablespoons extra-virgin olive oil
1⁄4 teaspoon Dijon mustard
2 cups rotisserie chicken breasts, skinless, boneless, shredded
2 tablespoons canola mayonnaise (such as Hellmann's)
2 tablespoons low-fat buttermilk
1 ounce blue cheese, crumbled (about 1/4 cup)
8 (6 inch) corn tortillas
2 cups iceberg lettuce, thinly sliced
1⁄2 cup tomatoes, diced
1⁄2 ripe avocado, peeled, chopped
Directions
Place eggs in a large saucepan. Cover with water to 1 inch above eggs. Bring just to a boil. Remove from heat; cover and let stand 13 minutes. Drain; cool in ice water 5 minutes. Peel and dice eggs.
Cook bacon in a medium nonstick skillet over medium heat until crisp (about 8 minutes). Remove bacon from pan, reserving drippings in pan. Drain bacon on paper towels; crumble bacon, and set aside. Add shallots and garlic to drippings in pan; cook 1 minute, stirring frequently. Remove from heat; add vinegar, oil, and mustard, stirring until combined. Add chicken to pan; toss to coat. Combine mayonnaise and buttermilk in a small bowl, stirring until smooth. Stir in cheese.
Working with 1 tortilla at a time, heat tortillas over medium-high heat directly on the eye of a burner for about 15 seconds on each side or until lightly charred. Arrange about 1/4 cup chicken mixture in center of each tortilla; top tacos evenly with lettuce, tomato, and chopped avocado. Divide egg and bacon evenly among tacos, and drizzle evenly with dressing.
Reviews
Most Helpful
What a terrific and easy meal! I don't care for blue cheese so used feta and a generous sprinkling of crushed black pepper instead. A healthy and flavorful dinner that's ready in minutes - can't beat that - thanks for sharing the recipe!

Delicious! What a great way to use leftover chicken. The toppings were fun and really great together. The chicken is full of flavor, too. Thank you for posting!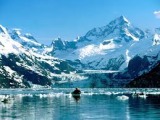 These were so good! and what a lovely picture. I didn't change a thing.