Nimz1466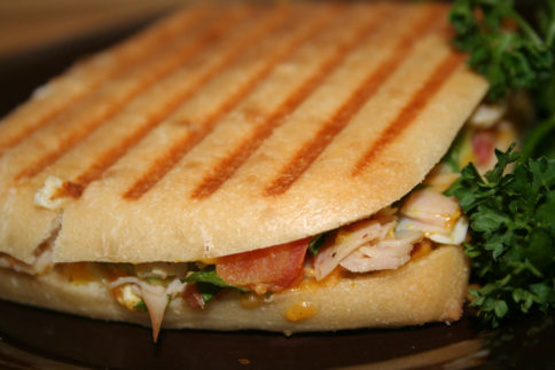 I just watched Tyler Florence make this. Its looks so good!

We loved this Panini. I think the lemon juice really adds a nice flavor. This all went together fairly easily. I used olive oil cooking spray instead of drizzling the olive oil as suggested. I cut the recipe in half and had a huge amount of filling left over. For us, the amounts of the ingredients are off some as written, or this would be a 5 star recipe easily. Thanks for sharing.
Chop the lettuce, tomatoes, avocado, turkey, bacon, cheese, and eggs into 1/2-inch pieces and put them into a large bowl. Add the parsley, lemon juice, 3 tablespoons olive oil, and season with salt and pepper; mix well to coat all the ingredients.
Slice the rolls horizontally. Drizzle a small amount of olive oil on each of the cut sides. On the 4 bottoms place about 1/2 cup of the chopped salad and spread it out evenly. Put the tops on and gently press each sandwich to flatten it slightly; drizzle lightly with olive oil.
Place each sandwich on a preheated panini press and grill until the bread is toasted and the cheese begins to melt, about 5 minutes. Alternately, preheat a dry cast iron or non-stick pan. Place the sandwich in the pan and weight it down with another pan or a clean brick wrapped in foil. Grill 5 minutes, turn the sandwich over, re-weight it, and grill for another 5 minutes. Serve immediately.