Rita1652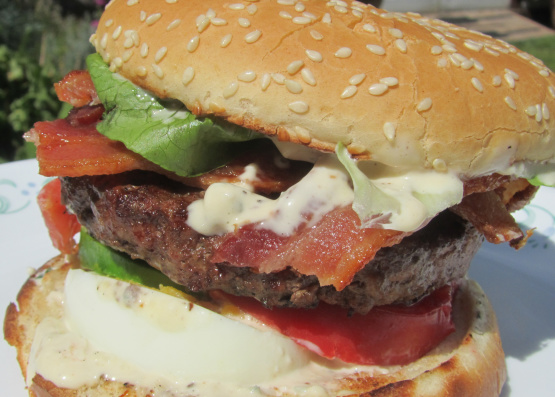 The Cobb salad created in 1937 at the Brown Derby. Recreated here to place the same ingredients on a burger. Not chopped but sliced for easier enjoyment! I give a choice between chicken the original ingredients or beef. If the avocado is firm you can grill it to soften. It may take longer then the meat, depending on ripeness. Take note of optional way to add the egg.

HEAVEN!!! Made this for DH and I and all we could do is go yummmmmm. I love the dressing. I did use ground chicken but DH would like me to make this again and use ground beef. Followed the instructions completely. Made for New Kids on the Block tag game and Bounce the Ball for Summer Fun tag game.
Mix all dressing ingredients together set a side.
Over high heat on an oiled grill place patties of choice.
Cook about 2 to 3 minutes.
With a metal spatula test to see if the burger easily lifts from the grate. If not continue grilling, until it does.
Flip all the patties.
Close lid and continue grilling for another 2 to 3 minutes.
Or continue to cook till desired.
.Place dressing on toasted buns. (You can gut the buns for easier eating.).
Divide all the ingredient's between each of the buns.
Enjoy!
Optional: Dice the egg and add it to the dressing.