karenury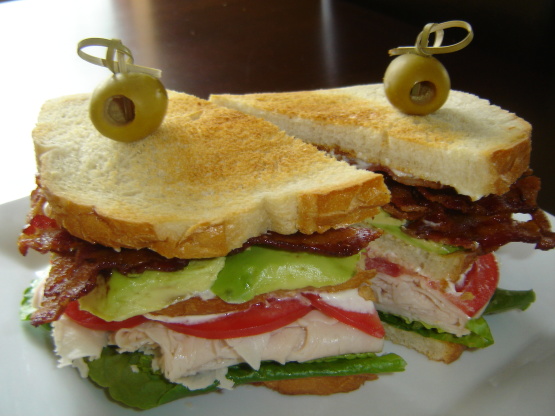 In this cobb club sandwich, I take the staple ingredients of a cobb salad--avocado, bacon, egg, chicken, and blue cheese--and re-imagines it as a triple-decker club sandwich.

Made these for dinner tonight- we liked them. I made Hubby's club style, but ate mine on a hamburger bun- I personally don't care for club style sandwiches but Hubby loves them. The only thing I missed was some green onion, which I would add next time. I would like to try these on a wrap or on a toasted hoagie roll. Thanks for posting the recipe.
1

medium tomatoes, sliced thin
1⁄2 teaspoon table salt
2⁄3 cup mayonnaise

3

tablespoons blue cheese, crumbled

12

slices white bread, toasted

2

large eggs, hard-cooked, peeled, and sliced thin

1

avocado, riped, pitted, peeled, and sliced thin

8

slices bacon, cooked until crisp and drained

3

boneless skinless chicken breasts, cooked and thinly sliced
Place tomato slices on several layers of paper towels and sprinkle with salt. Let sit for 15 minutes, then press with additional paper towels to extract excess moisture.
Using fork, mash 1/3 cup mayonnaise and blue cheese together in small bowl until smooth.
Spread blue cheese mixture on 8 slices toast. Spread 3 tablespoons mayonnaise on remaining 4 slices toast. Place 4 cheese-coated toasts on work surface. Layer each with sliced tomato, egg, and avocado. Place plain mayonnaise-coated toasts, mayonnaise side down, over avocado; spread tops of toast with remaining mayonnaise. Continue layering with 2 strips bacon and sliced chicken. Top with remaining blue cheese-coated toasts, facing down. Cut each sandwich into triangles. Serve.