Coarse Black Pepper-Cheese Bread
duonyte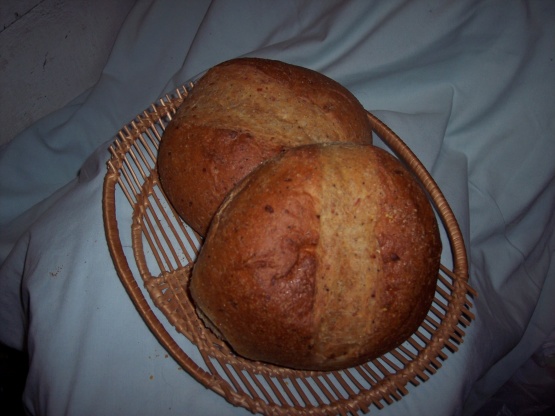 My family loves this bread! I like to serve it especially with soups and sometimes along with dinner. This is the bread I make when I don't use my bread machine. This recipe came from a good cook in our area that she shared in our local paper. The prep time includes the rising time, and I put 25 min. baking time, but start checking after 20 minutes. Thanks for trying this, I hope you enjoy it as much as we do!

This bread was not as "cheddary" as some others I've made, but it is delicious and makes wonderful sandwiches. Love the little kick the pepper gives. I added a bit of asiago cheese to the cheddar. It also made the most beautiful loaves of all in my traditional Christmas bread baking marathon.
In a large mixing bowl, combine 2 cups flour, yeast, sugar, salt and pepper.
Mix well In a saucepan, heat milk, water and shortening until warm.
Add to flour mixture Add egg and beat at low speed until moistened.
Beat 3 minutes at medium speed.
By hand, add cheese and enough flour to make a firm dough.
Knead well on a floured surface until smooth and elastic, about 10 minutes.
Punch dough down, divide into 2 parts.
Shape into 2 round loaves.
Place on a greased baking sheet, cover and let rise in a warm oven until light and doubled, about 30 minutes.
Bake at 375 degrees for 20-25 minutes, until golden brown.
Cool on racks, Makes 2 loaves.