KellyMae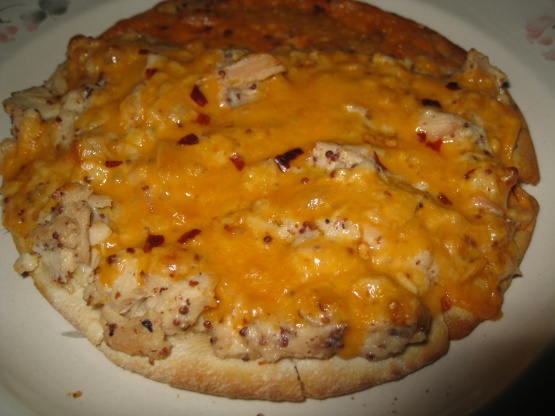 Created for RSC #10. For a treat, try a strip of cooked bacon under the cheese before toasting.

Made this last night. Had some extra roasted chicken left over and wanted something quick and tasty to use it up. It was great. I didn't have any celery seeds, and can't eat raw onion so left that out, but otherwise followed recipe, putting half on one slice of bread and half on the other and eating them both open faced all by myself! The maple syrup and mustard made it so good! Thanks, Pamela!
Combine first 7 ingredients in a small bowl and mix to combine.
Season to taste with salt and pepper.
Add onion and chicken and stir to coat evenly.
Split bun in half and place on a baking sheet.
Divide mixture between the two sides and then top with grated cheese.
Bake until cheese melts and chicken mixture bubbles.
Allow to cool slightly before eating.
Enjoy!