light fluffy pineapple salad your sure to love
Directions
mix cream cheese and pineapple juice until well blended.
add whipped cream and crushed pineapple mix well.
chill till ready to serve.
Reviews
Most Helpful
I made this for Spring PAC 2009. I served this on the side of Tropical Coconut Bread. I used low fat cream cheese and Cool Whip. DH loved it and will want this again. Thank you.
Made this yesterday and it was so simple with only the three ingredients. We all loved it and I`ve put it in my FAVORITES cookbook to make again. I was`nt sure if you meant to use Dream Whip or actually whipped cream, All I had was the extra creamy Dream Whip, (my favorite!) and it turned out great!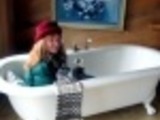 Made for Healthy Choices 2008 ABC. I'm not giving this any stars, but it has nothing to do with the recipe and nothing against the person who posted it. The reason is that I didn't follow the recipe exactly. I used FF cream cheese and Cool Whip Free and it didn't taste very good. I'll make it again as posted and then re-review the recipe.