Closest Thing to Subway's Italian Herbs & Cheese Bread
H C.3738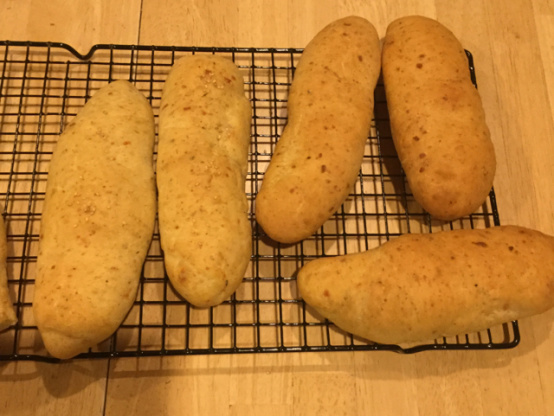 At least this is the closest one you'll be able to find. Most likely. It's not going to look like they're bread, but I heard if you freeze it, let it sit out for a bit, roll it and then put it in regular bread pans in the oven and cook it to about 350 it should turn out closer to it...... But I'm too scared to try that, if you try it and you like it let me know! This recipe came from MC-Recipe Digest V1 #583 by Barbara Zack on Apr 21, 1997.

This has got to be better than Subway bread. I work at Subway. Italian herb and cheese bread starts out as white (italian) bread (every kind of Subway bread comes frozen as white or wheat) and is then rolled in a mix of herbs and salt once thawed, proofed to 75% the size of the final loaf, then sprinkled with Monterey cheddar cheese then baked. The only special part about Subway bread is what it is rolled in or sprinkled with. Otherwise inside it's plain white or wheat!
Mix parmesan into flour.
Add ingredients in order suggested by your bread machine.
Make a well in the center and add yeast.
Bake on French setting, medium crust. Makes a 1 1/2 pound loaf.