Cloie's Coconut Macaroon Pie
Bev I Am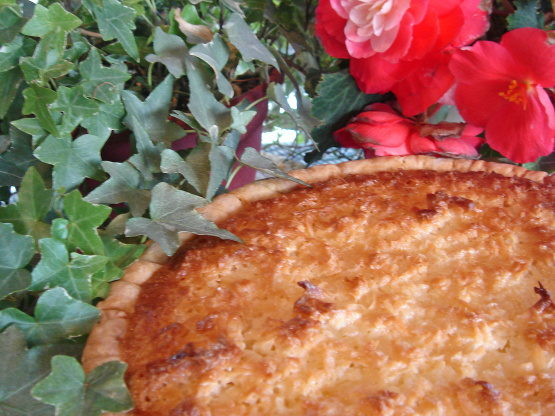 Many years ago, when I was in grade school, I attended Catholic school. My mom used to bake one of these pies, every couple of weeks, to take to the rectory for the parish priests. It wasn't long before one of the sisters asked me if my mom might bake one of those delicious coconut pies for them too. So, it became a ritual for my mom to bake these and deliver them to the parish priests and nuns every few weeks. She enjoyed doing it and I always secretly thought those coconut pies did "wonders" for my report cards. :-)

these pies are great. i used to make them for a cafe i used to work in on graveyard shift at slow times. i did one extra step to them i added a package of cream cheese to them. this made them richer but oh so worth it, my group of regular coffee drinkers would come in and ate the whole pie. some ordered whole ones to take home.
In mixing bowl, combine first 5 ingredients and mix well on medium speed of mixer.
Reduce speed to low and add milk continuing to mix well.
Fold in coconut by hand and stir.
Pour mixture into unbaked pie shell.
Bake at 325 degrees for 1 hour.
Cool completely before slicing.