Clementine Poppy Seed Muffins
lynmoz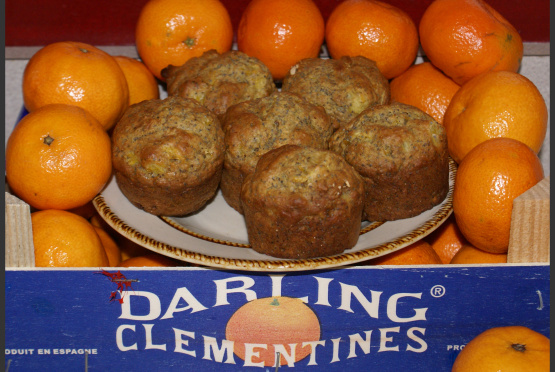 Clementines are a small citrus fruit related to oranges that grow in Spain and north Africa. They are found in Canadian supermarkets in vast quantities during the Christmas season. If you can't get clementines, substitute mandarins.

Made these today and they were ok I found them a bit dry but taste great with some pear jam with it.
In a bowl, stir together the flour, sugar, poppy seeds, baking powder, ginger, and baking soda.
Finely grate the rind of 2 of the clementines; add to the bowl.
Peel all the clementines and coarsely chop segments to make about 1 cup; add to the flour mixture and toss to coat.
Whisk together the yogurt, eggs and butter.
Pour over the flour mixture; stir just until moistened.
Spoon into 10 greased or paper-lined muffin cups, filling two-thirds full.
Bake in a 375 degree F oven for 20 to 25 minutes or until golden and the tops are firm to the touch.
Let cool in the pan on a rack for 5 minutes; transfer to a rack and let cool completely.