A very easy way to clean a microwave that has been splattered with food you have forgotten to cover before heating!
Directions
Soak the paper towels in the ammonia, place in microwave. Cook on high for one minute. Let sit until cool, wipe out microwave. Easy peasy!
After reading the reviews, I suggest leaving the microwave door open for a time to let it air out. Personally I have never had a problem with the odor, it dissipates almost immediately, but by all means, throw a lemon slice in!:).
Most Helpful
I do the same thing but with lemon just. No smelling of ammonia secent after.

After reading all the previous reviews, I expected an unpleasant odor. Fortunately, the ammonia that I had was lemon ammonia, which may have helped some. I also didn't overly soak the paper towels. I folded them into a square and poured the ammonia over them until they were just wet. Then I put them in microwave with half a juiced lemon on top (I had it leftover from a recipe). The end result was absolutely no odor and no trace of the bacon grease that was splattered inside! I will definitely do this again (without any fear of odor). Thanks for sharing this, pammy!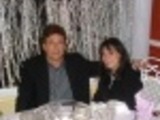 I usually just use lemon juice in water "steamed" in the microwave to clean my microwave. I did notice that the ammonia seemed to remove the more stubborn, stuck on things than the plain lemon juice. But the smell isn't as nice. So next time I'll add lemon juice to the ammonia....I was scared to do so at first, afraid of an explosion or chemical reaction LOL! The ease of cleaning can't be beat. Thanks for sharing! Made for your win in Football pool!