Bergy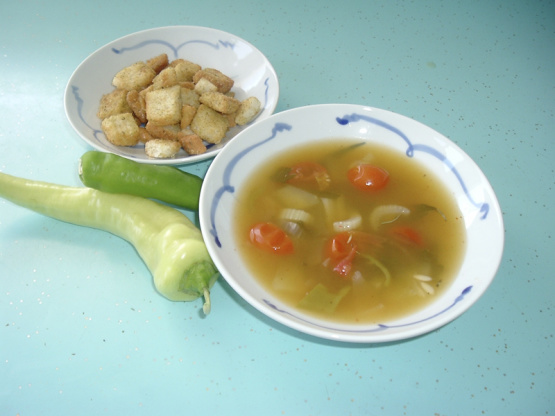 My garden runneth over so I threw this together. Vary your veggies depending on what is maturing. I used mixed lettuce leaves finely chopped for the greens. You will want to chop the greens quite fine so they fit on the spoon nicely. I like to float herbed croutons in it.

Great recipe & suiting name for it! It's garden harvest time here & I'm looking for recipes to use up cucumbers, tomatoes & herbs. I changed abit; used essence spice for chili flakes & increased the cucumber (you couldn't even tell they were in there). I used green jalapeno peppers & everyone agreed it was abit too spicy (reminded me of hot & sour soup). It was good but just abit too much spicy kick for us. For the greens I used cabbage & found it abit crunchy, next time I'll try adding a few mins before other vegys. This is a great go-to soup recipe, thanks for sharing.
6

cups vegetable broth, canned or your own

3

cups water

1

cup cucumber, peeled,seeded & chopped

10

cherry tomatoes, quartered or 1 large tomatoes, coarsely chopped

2

anaheim chilies or 2 other bell peppers, seeded,membranes removed & chopped

1

medium onion, chopped

2

stalks celery, chopped
salt & pepper

1

teaspoon thyme

1

teaspoon rosemary

2

cloves garlic, smashed (optional)

1

teaspoon chili flakes (optional)
Simple- put everything in a large pot, bring to a boil.
Simmer 10 minutes and serve.