Clean Eating Sunomono Salad
JustJanS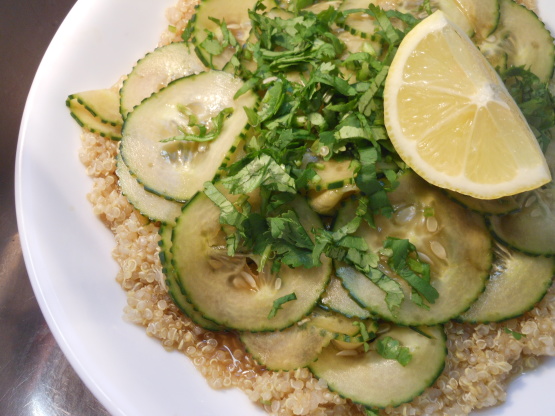 Entered for safe-keeping. From Clean Eating, May/June 2009. A Japanese salad.

This is a beautiful, fresh tasting salad that went really well with the Recipe #464616 we had for dinner tonight. Because we were having chicken I left off the crab and served it as a vegetarian side. We expect to do some crabbing later in the week, so I think I will make this again using fresh crab as I think it would be amazing.
Cook quinoa according to package directions. Set aside to cool slightly.
Finely slice cucumbers into 1/8-inch or thinner pieces and place in medium mixing bowl.
In a small bowl, combine soy sauce, vinegar and oil. Pour over cucumber slices and toss together.
Divide quinoa among 4 salad plates and place cucumber slices on top.
In a small mixing bowl, combine crab meat with lemon juice. Divide evenly on top of cucumber slices.
Refrigerate for 2-3 hours for best flavor. Can be kept in the refrigerator for up to 4 days.
Garnish with cilantro immediately before serving.