Clay Pot Swiss Chicken and Mushrooms
JustJanS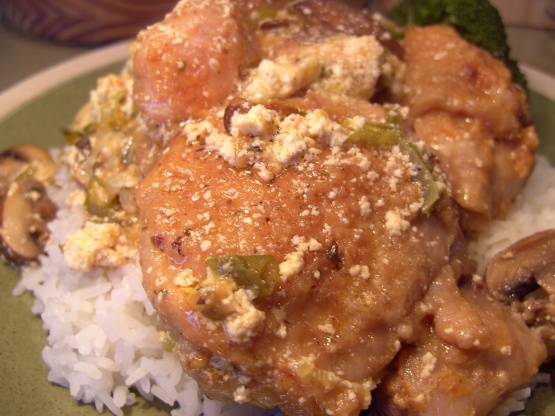 We had this the other night for dinner and enjoyed it a lot. Served this over rice.

On one hand I had high hopes for this, on the other great concerns. I wondered how it'd cook without the cheese and sour cream curdling, but decided the flour might hold the sour cream together and the clay pot might be magic enough to stop the cheese going the same way. Wrong. If we eat with our eyes, tonight I wish I was blind.-This really tasted good but looked so unappealing I'm glad it was just the two of us eating. I fried my mushrooms in the oil and used thyme instead of marjoram. Like I said, taste was good but I wouldn't make this again sorry Jules.
Presoak pot, top and bottom, in water for at least 15 minutes.
Shake chicken pieces in bag containing the flour, oregano, paprika, marjoram and garlic salt. Keep the remaining flour mixture.
Brown the chicken pieces in a frying pan, quickly, with the olive oil. Add the salt and pepper to taste. Place the browned chicken in the claypot, add the chopped green onions and the sliced mushrooms to the claypot.
To the chicken drippings in the frying pan add the rest of the flour mixture to cook out slightly.
Once cooked add the white wine and sour cream until sour cream has just melted and mixed through. Pour this whole mixture over the chicken.
Spread the grated swiss cheese over the chicken and place the covered pot in a cold oven.
Set the temperature to 250C or 480F and cook for approximately 45 minutes or until chicken is cooked to your liking checking after 30-35 minutes.
I like to drain any oil accumulated from the chicken, sour cream and cheese and to do this I blot with paper towels.