Claudia's Chocolate Chip Cookies
Mandala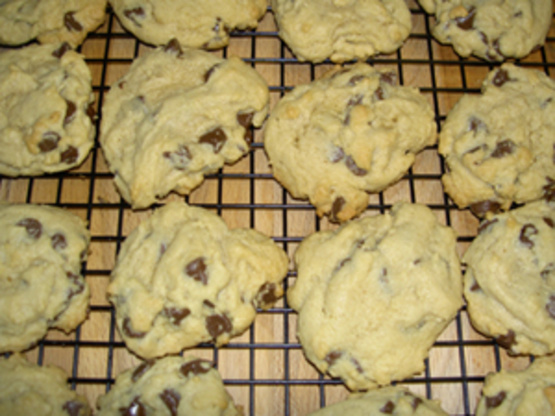 My boss's wife has always made the best chocolate chip cookies. This recipe contains her tricks for the perfect chewy, soft cookie.

These weren't my favorite chocolate chip cookies. I couldn't get them to bake through, even though they appeared done, and though I don't mind slightly underdone cookies, these fell apart (but they tasted good, and even better two days later). 3 stars.
Preheat the oven to 325°F.
Cream the butter and sugars until light and fluffy.
Add the eggs and vanilla extract and stir well.
Add the flour and baking soda and mix to combine.
Stir in the chocolate chips.
Drop rounded teaspoonfuls (approx. golf ball sized) onto a baking sheet about 2 inches apart.
Bake at 325F for 12 minutes (until the edges just barely start to brown). Cool on the sheet for a couple minutes before removing to a wire rack to finish cooling.