Rita1652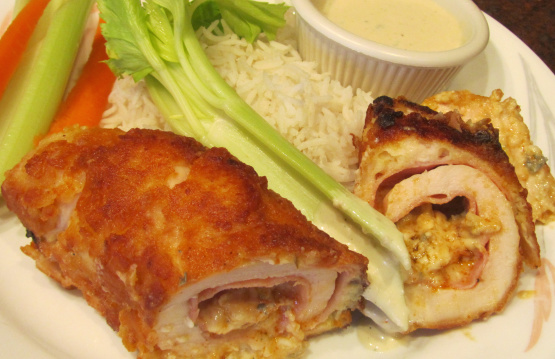 I took three classics from around the world Russian Chicken Kiev, French Cordon Bleu, American Buffalo Wings using Sriracha sauce for the hot sauce because it is so yummy and came up with Bundles of yumminess. Great to serve at a Dinner Party or eat half and freeze half for when you crave them. The chicken bundles are large and filling one can serve two very easily.
8

chicken breasts, pounded 1/4 inch thick

8

slices rosmarino oven roasted ham with rosemary and garlic (both very thin slices) or 8 slices prosciutto (both very thin slices)

10

tablespoons butter, room temperature

6

tablespoons sriracha hot sauce

2

tablespoons vinegar

6

ounces crumbled blue cheese

2

eggs
flour, for dusting

3

cups crushed oven baked potato chips
vegetable oil

24

ten inch pieces kitchen twine
Season breasts and set aside.
Place 6 tablespoon butter in one bowl add to it 4 tablespoon hot sauce and the vinegar. Set aside.
Place the remaining butter hot sauce and blue cheese in an other bowl. Knead to blend and form 8 finger size pieces. Chill in freezer for at least 10 minutes.
Place one slice of ham on each chicken breast.
Place one piece of chilled cheese mixture on the ham.
Roll up tightly tucking in sides. Tie three pieces of twine around each bundle. Clip ends of twine.
Flour each bundle, dip into egg mixture of whisked eggs and 1 teaspoon water.
Then coat with potato chips pressing in the chips to adhere. Place on a sheet pan and chill to set up for 30 minutes.
Preheat oven to 350 degrees.
In a large fry pan heat 1/2-1 inch oil.
When hot brown all sides of bundles frying 4 at a time about 1-2 minutes per side.
Not crowding on pan.
Remove to sheet pan and fry the other four.
When browned place in oven for 10-15 minutes.
Meanwhile heat the buffalo sauce and stir to blend.
Remove chicken bundles and pour sauce over them coating all sides.
Let rest 10 minutes. Remove string or let each guest have the honors.
HeHeHe --.
Serve with rice, carrots sticks, celery sticks and blue cheese dressing.
Enjoy.