Classic White Crème Brûlée
diner524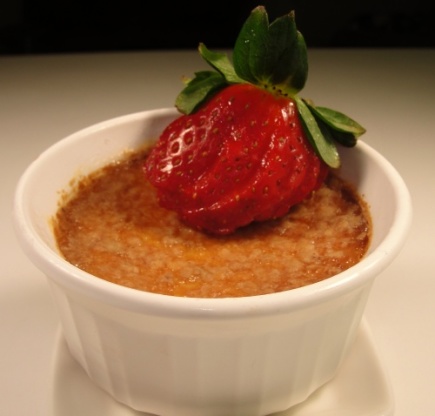 Just a recipe I found which my family liked! Time does not include prep time.
Delicious!!! First time making Creme Brulee for me and it was very easy!!! I loved the white chocolate flavor to this dessert and so nice and creamy!!! I scaled the recipe to make two servings and used Ghirardelli White Chocolate. Thanks for sharing the recipe.
Preheat oven to 300°F.
In medium bowl, whisk egg yolks with sugar until smooth.
In 2 quart saucepan, bring whipping cream to a simmer over medium-high heat. Add white chocolate pieces to simmering whipping cream.
Turn off heat and whisk until white chocolate is melted.
Add white mixture to egg yolk mixture one tablespoon at a time, whisking continuously to prevent eggs from scrambling. Whisk until smooth. Add vanilla.
Pour into four custard cups.
Place cups in 13" x 9" baking pan or broiler pan. Add enough water so cups sit in 1 to 1 1/2" of water. Bake until set, about 45 minutes.
Serve warm, at room temperature, or refrigerate overnight. For a delicious crunchy surface: Sprinkle the tops of the crème brûlée with 1 teaspoon of sugar and place under broiler until caramelized.