Classic Tea Time Cream Scones
gailanng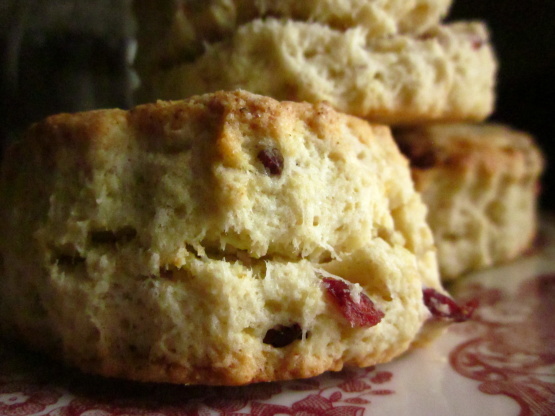 This lovely recipe for scones comes from the book "Simply Scones" by L. Weiner and B. Albright, which I got for my bday yesterday. They taste great as is or spread with jam or clotted cream or even with some cheese melted on top. This I discovered when accidentally putting the cheese on the wrong scones before baking two different kinds. :) Hahaha...

Scones are one of my favorite things to both eat and make. If this recipe doesn't make a scone believer out of you I fear that there is no hope for you, lol. All scones are at their utmost best when still hot from the oven but these remain moist enough to rewarm very nicely. I used the currants but no lemon. The rich vanilla flavor is almost addictive. They were a delight with sugar free raspberry jam. Made for PAC, Spring '10.
In a big bowl mix flour, baking powder, salt and sugar. If using vanilla bean add it now.
Add the butter and rub it in using two knives, a pastry blender or your finger tips. When the mixture resembles coarse crumbs, stop.
Add the beaten egg and enough cream to make a soft but not sticky dough.
Turn out onto a lightly floured board and knead lightly (not more than 8 times).
Pat down and cut out scones using a cookie cutter or a glass (I use a glass of 7.5 cm in diameter).
Place on a paper-lined baking sheet and brush with some cream if you like.
Bake in the pre-heated oven at 220°C/425°C for 10-15 minutes or until lightly browned.