Derf2440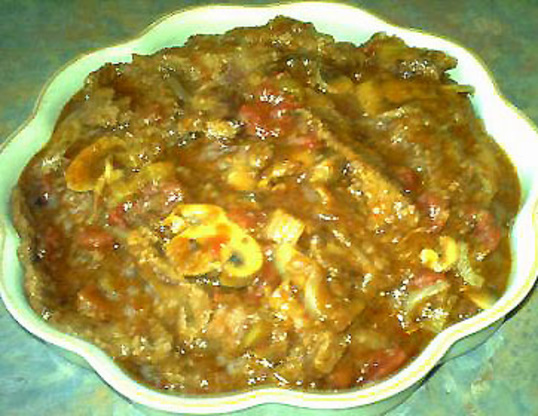 Gives me the warm fuzzies just thinking about this stuff. Comfort food at its best. Can someone pass the mashed potatoes please? :)

Top Review by Rob79
Just put this in the oven, and thought I'd take a second to let everyone know that this went together beautifully with the given instructions. The only thing I did different was replace the water with beef stock and added about another 1/2 cup of liquid (in the form of the juice the tomatoes were packed in with another tablespoon of steak sauce). Excellent recipe!
Preheat oven to 350 degrees Fahrenheit.
Place steak between pieces of waxed paper and pound meat on each side with a mallet to ensure tenderness.
Cut meat into bite-size pieces.
Combine flour, pepper, and salt; dredge meat in mixture.
Heat the 1 tablespoon canola oil in a skillet and brown meat; drain and place in a 2-1/2 quart casserole or baking dish.
Heat the 1 teaspoon canola oil in a skillet and saute garlic, celery and onion for 2 minutes, then add mushrooms. Continue to cook until onions become translucent.
Add tomatoes and mix thoroughly.
Place vegetables on top of meat.
Combine water and steak sauce; pour over vegetables.
Cover and bake at 350 degrees Fahrenheit for 1-1/2 hours or until the meat is tender.