DSimone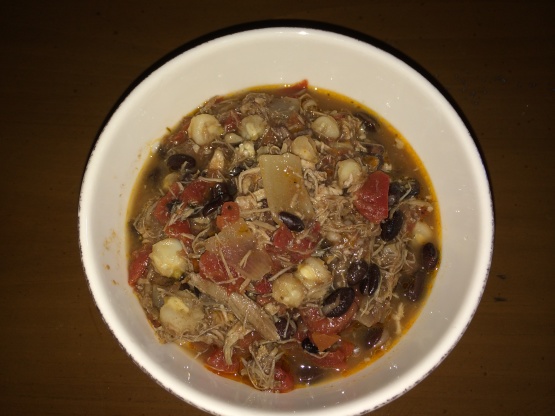 This is a variation of a Bon Appetit recipe, utilizing a crock pot to shorten the prep time. The recipe makes a lot but is so wonderful that you'll enjoy having so much left over! You can cook the pork ahead of time in the crock pot and throw together the recipe in 40 minutes. I substitute black bean for the pinto beans.
Rub pork with next four spices. Wrap in aluminum foil and cook on low in crock pot for 5 hours.
Let pork cook then shred and set aside.
In large pot, head oil and sauté onion until translucent, about 5 minutes.
Add garlic, cook 2 minutes.
Add tomatoes, broth, beans, hominy, oregano, cumin, salt & pepper. Simmer 15 minutes.
Add pork and simmer another 15 minutes.
Serve in bowls and garnish with desired toppings.