Ashley Cuoco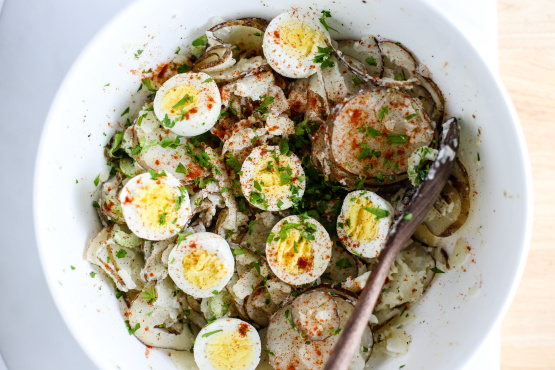 I make this classic potato salad a lot for pot lucks and picnics. Everyone likes this recipe.

When I read this recipe, it didn't sound all that different than any other, but based on a 5 star rating by someone else, I tried it and my company did all but lick the bowl clean when I served it! Be careful with the salt. BE SURE to salt the water when you cook the potatoes! (I notice a lot of recipes don't mention that anymore. A young cook doesn't know to do this). I doubled the amount of salad dressing because (I used more like 10 or 11 potatoes)--but the eggs and it wasn't dry the next day when I served it. GREAT potato salad!
Boil peeled potatoes in salted water until done. Cool to room temperature.
Place diced potatoes in large bowl.
Mix mayonnaise, cider vinegar, sugar, mustard, salt, garlic powder, and pepper in another bowl.
Add to potatoes.
Add celery and onions and mix well.
Stir in eggs.
Sprinkle a little paprika on top.