Classic Pommes Boulangère - French Gratin Potatoes
AcadiaTwo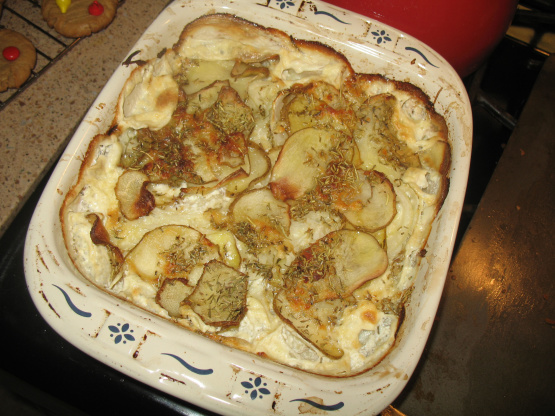 This classic French potato gratin dish literally translates as "Potatoes in the Style of the Baker's wife". The story is, that in the past, a French family would prepare these potatoes and then take them to the local boulangerie, the baker, to be cooked in the even heat of his oven, hence the name. Any sort of good quality stock will do, chicken, lamb, beef or vegetable. For a richer taste, a ratio of 50% hot stock and hot milk/cream can be used. If using lamb stock, it is nice to sprinkle the top of the potatoes with fresh Rosemary, and I often add a sprig of thyme to my potatoes when baking them. I have found that melted butter gives a better result than dotting butter, no burned and upturned edges anymore!

I made this exactly as written using homemade stock and yukon gold potatoes. It was good but I agree with a previous reviewer and think it would be enhanced with the addition of some tasty cheese. The instructions don't mention when to add the rosemary and thyme so I sprinkled some on top of the casserole before baking (almost forgot to add it or I would probably have added it to the stock).
2 1⁄2 lbs potatoes, peeled and thinly sliced. such as Desiree, King Edwards are the best, although Maris Pipers are very

2

onions, peeled and sliced thinly

7

fluid ounces hot stock

1

ounce melted butter
freshly grated black pepper
rosemary (optional)
thyme (optional)
Pre-heat oven to 150C/300F/Gas mark 3.
Butter a large shallow ovenproof dish.
Peel potatoes thinly, do not rinse.
Peel and slice the onions thinly.
Using a mandolin slice if possible,slice the potatoes very thinly, again do not rinse.
Arrange the potatoes over the base of the dish slightly overlapping, sprinkle with a little salt and pepper and then add the sliced onions.
Continue until all the potatoes & onions are used up, ending with a potato layer.
Pour over the hot stock.
Brush with the top of the potatoes with the melted butter.
Place the potatoes on the high shelf of the oven for 1 hr to 1 1/2 hrs or until tender and the top layer is a crisp golden brown.
Serve immediately with roasted meats, as an alternative to roast potatoes, or with a pot roast, hot-pot and vegetables.